Community Updates
Your resource for all things Windsor West Lemmon. Please check back frequently for the latest on community events, updates or announcements.
Announcements
Winter Storm Update: Trash Service 2/18/2021 6:06pm CST
Please be advised that our regularly scheduled trash removal service has been suspended temporarily due to weather conditions. This can cause trash build up in our chutes and trash receptacles. In the interim, we have hired a third-party company to help alleviate some of the overflow. They will be onsite tomorrow. You may continue to experience some overflowing chutes and trash receptacles until we are able to have our regular service resume. We will inform you when regular trash service is restored.
Winter Storm Update: 2/18/21 6:45pm CST
We appreciate your patience during these trying times. We are happy to announce that the power has been fully restored at Windsor West Lemmon. We are grateful to be able to get warm and take care of our families and neighbors.

We will keep you informed of any new updates.


Winter Storm Update: Urgent Building 1 Evacuation Per DFP - As of 2/17/21
Please be advised that the local Dallas Fire Department will be asking all residents that live in Building 1 to evacuate due to the discovery of a gas leak on an adjacent roadway. As a reminder, there is a warming center located at Kay Bailey Hutchinson Convention Center Dallas, 650 S Griffin Street, (214) 939-2700. For more information, please call Atmos Energy at (866) 322 - 8667.

Thank you for your cooperation.

Sincerely,
Your Windsor West Lemmon Team
Winter Storm Update: Update to Urgent Building 1 Evacuation Per DFP - As of 2/17/21
We have opened 4 vacant apartment homes in Building 2 for residents who were evacuated from Building 1 due to the gas leak in our neighborhood. These apartments are #2109, #2134, #2306, and #2311.

Two 20-person passenger vans will be onsite to transport residents to warming centers if necessary. The vans will be stationed in front of the Leasing Center, and a representative is standing by to assist you.

A food truck will be onsite this evening and parked at Building 2.
Winter Storm Update: 2/17/2021 5:57pm CST
As of approximately 6pm on Tuesday, February 16th, consistent power was restored to Building 2. Building 2 contains all apartment homes beginning with the number 2.

Power was partially restored to Building 1, but several homes remain without power. The homes which continue to be without power are those beginning with the number 1 and ending in the following two digits: 41, 43, 45, 47, 49, 51, 53, 55, 57, 58, 61, 63, 65, 67, 69, 71, 73.

We will continue to keep you updated as information becomes available to us.
Winter Storm Update - As of 2/16/21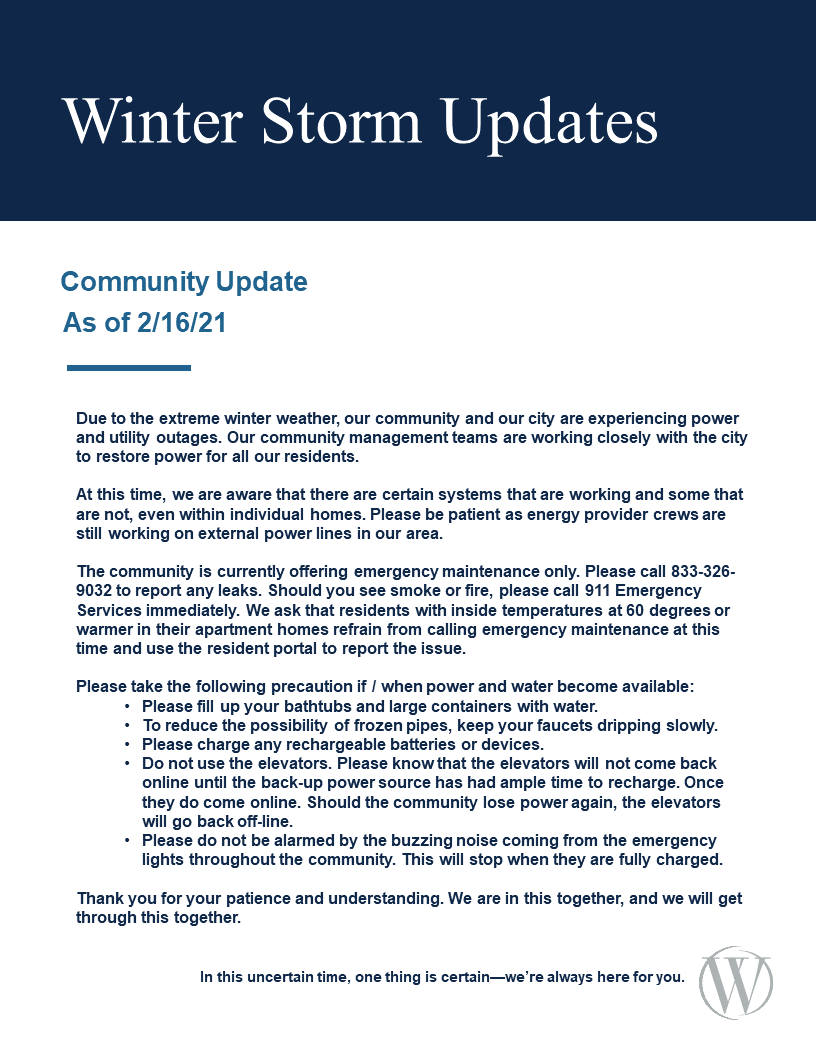 Community Tips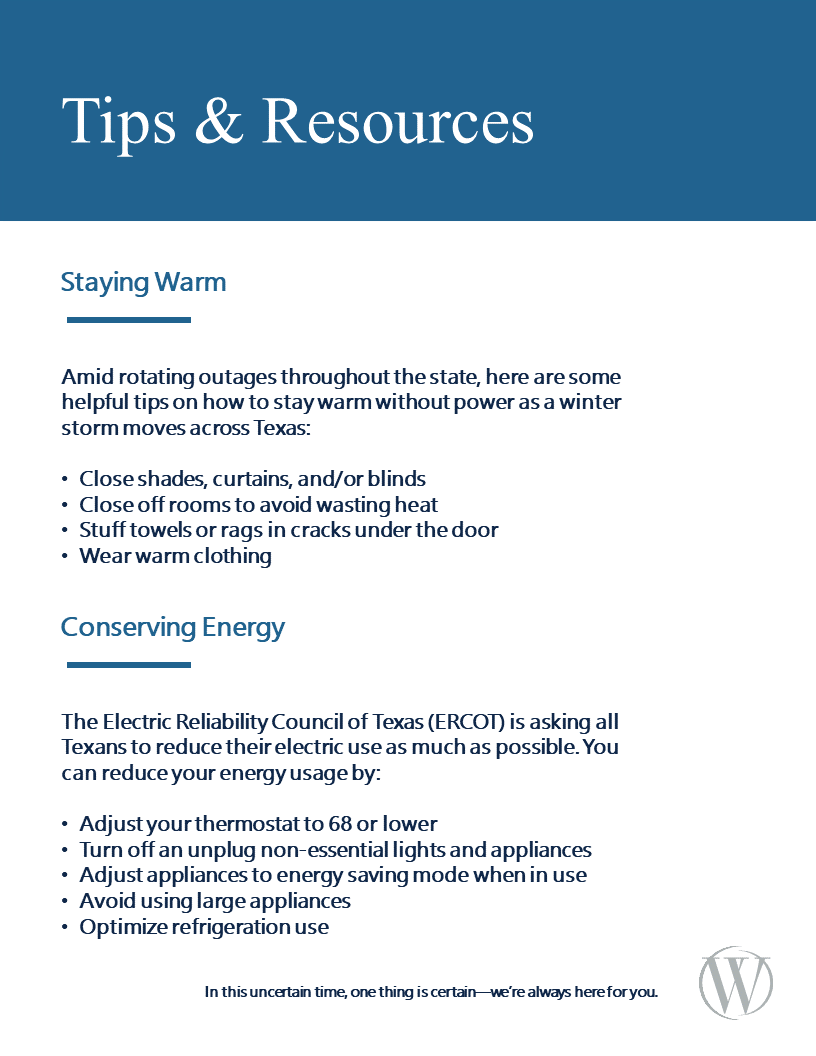 Local Resources